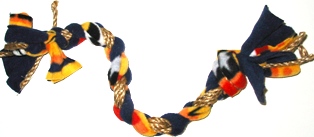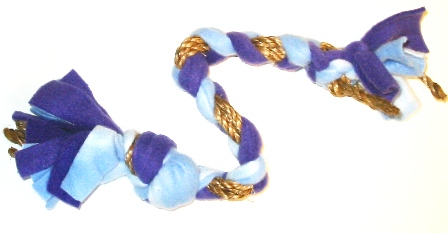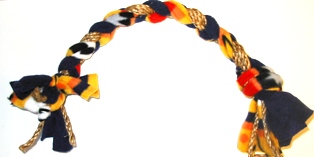 RUGGLES: Straight rope style


RUGGLES: Looped rope style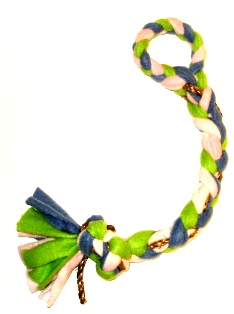 --------------------------------------------





!!!!!!!

RUGGLES !!!!!!!
RUGGLES were inspired by KISMET - a wonderful White German Shepherd Pup no doubt will enjoy many years of Smartydog activities. Kismet, was one of our first RUGGLE testers. Her RUGGLES rating was a huge 4 PAWS UP!

A TOUGHER
Interactive Training Toy!

FlugglesTM Ruggles are made with piece of manilla rope, braided along with 2 strips of fleece. They have a large knot on each end!
Useful in performance training and
competition settings
FlugglesTM Ruggles are hand crafted using manila or polyrope and fleece. Ruggles are popular with dogs who like a "harder" less flexible tug toy. As with our other FLUGGLESTM products, they can be used to shape lines, motivate and be placed strategically to reinforce specific performance behaviors.
They are especially useful for those of us who have vigorous tuggers and wish to use toy rewards during performance training. ALWAYS use our training toys during supervised interactive activities!
RUGGLES come in two styles, straight and looped. Each RUGGLE has 2 to 4 pieces of rope braided in with the fleece!

We do NOT claim that any of our FLUGGLESTM products are indestructible. What we can say - is that RUGGLES, when used as an interactive training tool, will stand up to heavy tugging and fetching LONGER than the majority of FLEECE ONLY or "attached" vinyl and plastic tug toys.
ALL our FLUGGLESTM products are hand made.
We cut our fleece in generous strips and tie our knots tighter.
Always inspect your training toys for wear and replace when frayed or torn!
RUGGLES are tied and knotted by hand in a variety of colors and lengths. Photos are representative samples and exact matches may not currently be in stock. If you have a specific color or color combo request - email us - and we'll do our best to accommodate you. Otherwise, we'll choose from the "currently" available stock colors.
------------------------------------------------------------------------------------------------------
Online Price- $12.99 (CT Sales Taxes Apply)
Shipping & Handling = $8.00*
*(on quantities up to 5)
STOCK UP AND SAVE!!!

email for availability
-as all of our items are unique, simply indicate straight or looped rope style -
and let us choose one for you!
------------------------------------------------------------------------------------------
Color combinations vary as we strive to create unique products!
Items pictured are for SAMPLE purposes only and may not currently be in stock.

FlugglesTM ARE interactive training toys! They are NOT chew toys.
Inspect Frequently, Replace when torn or frayed.
Always supervise your pet's play!